Rugged, confident, convenient: All-new X-Trail breaks cover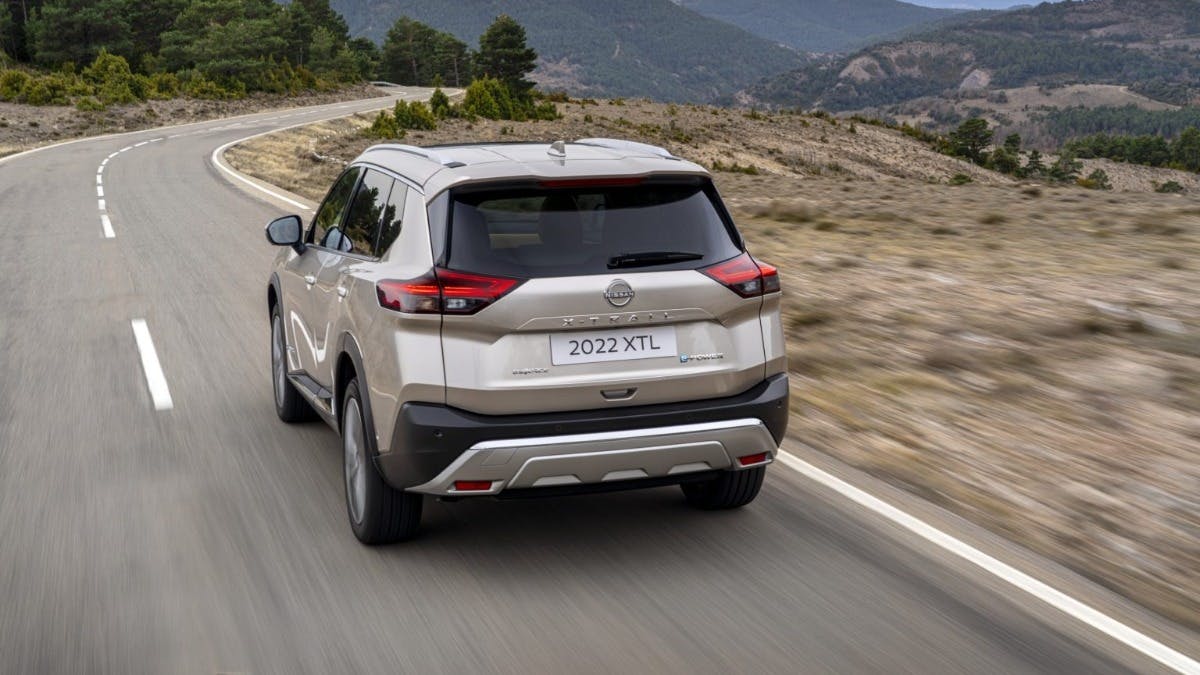 The next stage of Nissan's electrified product offensive has taken shape with the UK premiere of the all-new, fourth-generation X-Trail.
Over two decades, almost seven million units of X-Trail have been sold globally, making it one of the world's most popular family adventure vehicles.
Starting at £32,030, the all-new X-Trail offers a unique combination of rugged eye-catching design, comfort, on-board convenience, and an effortless, confident drive.
For this new iteration, Nissan has drawn on the well-established DNA that runs through all three of the previous generations: muscular design, flexible utility, and advanced all-wheel drive capabilities.

The all-new X-Trail will be available in both five- and seven-seat configurations, offering a convenient option for days out with extended family or friends.

Thanks to the new Alliance CMF-C platform, which showcases advanced engineering, innovation and technology, the all-new X-Trail will again raise the bar in the crossover segment.

Customers with a taste for adventure will savour the enhanced dynamic performance and advanced electrification technologies that the new generation of X-Trail offers.

Francois Bailly, Senior Vice President and Chief Planning Officer for Nissan's AMIEO Region, said: "Replacing an icon like the X-Trail is a huge responsibility.

"It has established itself as a vehicle for families to share adventures in, so we know what our customers appreciate. For the fourth generation, we will give them the capacity for adventure, with an advanced electrified all-wheel drive powertrain, combined with intuitive and convenient technology."

Nissan's iconic X-Trail will arrive on the streets of the UK soon with dealers now able to take customer orders.

Modern, muscular styling

Central to X-Trail's appeal will be its distinctive styling which projects a reassuring sense of prominence and robustness, without being aggressive.

Both the exterior and interior of the All-New X-Trail reflect the spirit of the vehicle – versatile and adventurous. The exterior is highlighted by signature Nissan design elements such as the floating roof and V-motion grille.

The frontal aspect is framed by striking headlights that appear moulded within the bodywork of the front bumper, with combined daytime running lights and indicators nestled along the shut-line of the hood.

From the side, muscular wheel arches at the front and rear give the X-Trail presence on the road, whilst at the base of the doors, an inset feature brings a sense of fluidity to the sheer surfaces of the doors.

New X-Trail will be available in 10 body colours with five two-tone combinations, creating 15 variations to choose from.

e-POWER drivetrain

The all-new X-Trail will be the second model in Nissan's European range to be equipped with the brand's innovative e?POWER drive system. Exclusive to Nissan, e-POWER is a unique approach to electrification, offering the EV-drive feeling without the need to recharge.

 

First introduced in Japan on Note in 2016, it went on to become the best-selling car, with customers loving its combination of smooth, effortless performance and cable-free ownership.

The defining feature of e-POWER is that the petrol engine is used solely to generate electricity, whilst the wheels are completely driven by the electric motor. This means the engine can always run within its optimal range, leading to superior fuel efficiency in urban settings.

e-Pedal Step

Given that 70 per cent of drive time is likely to be spent in suburban areas, Nissan developed a 'one-pedal' driving experience called e-Pedal Step. Designed to take the repetitive strain out of stop-start urban driving, where the driver is frequently moving their foot between the accelerator and brake, e-Pedal Step allows drivers to accelerate and brake using only the accelerator.

Mild Hybrid Version

While the e-POWER equipped version of the X-Trail will make up the majority of the demand for the vehicle, it will also be offered with the turbocharged 1.5-litre variable compression ratio powering the wheels in the traditional fashion.

Generating 120kW (163PS) and 300Nm of torque, it will be offered only in two-wheel drive configuration, with power to the wheels being transmitted via the Xtronic stepped continuously variable transmission.

In driving scenarios with relaxed driving and light acceleration, the engine switches to high compression ratio for optimised fuel efficiency, while in situations where more performance is needed, the compression ratio is adjusted to a low level.

The powertrain is also equipped with 12v Mild Hybrid technology. The system provides torque-assist, extended idle stop, quick restart and coasting stop, with benefits to both fuel economy and CO2 output.

When decelerating, energy is recovered through regeneration and stored in the lithium-ion battery. This charged energy is then used to run the car's systems while the engine is stopped, while waiting at a red light for example. Additionally, a torque boost of around 6Nm can be generated under acceleration.

This means that the entire X-Trail line up is now electrified.

e-4ORCE

A new all-wheel drive system designed to work with Nissan's electrified powertrains is introduced on the All-New X-Trail in Europe. e-4ORCE will deliver reassuring traction and confident acceleration in all conditions thanks to Nissan's most advanced all-wheel control technology.

The "e" in e-4ORCE stands for Nissan's 100 per cent electric motor drive system. "4ORCE" refers to the vehicle's physical power and energy, with "4" representing all-wheel control. It will also be arriving on ARIYA, early 2023.

Cliodnha Lyons, Region Vice President, Product Planning, Nissan AMIEO Region, said: "The X-Trail with e-POWER and e-4ORCE will occupy a unique corner of the segment, being the only seven-seater family crossover with an electrified powertrain. The X-Trail is precisely the type of vehicle modern adventurous families are looking for."

 

For more information on the All-new Nissan X-Trail -  Click Here