SLM Group Welcomes GWM ORA Franchise to Norwich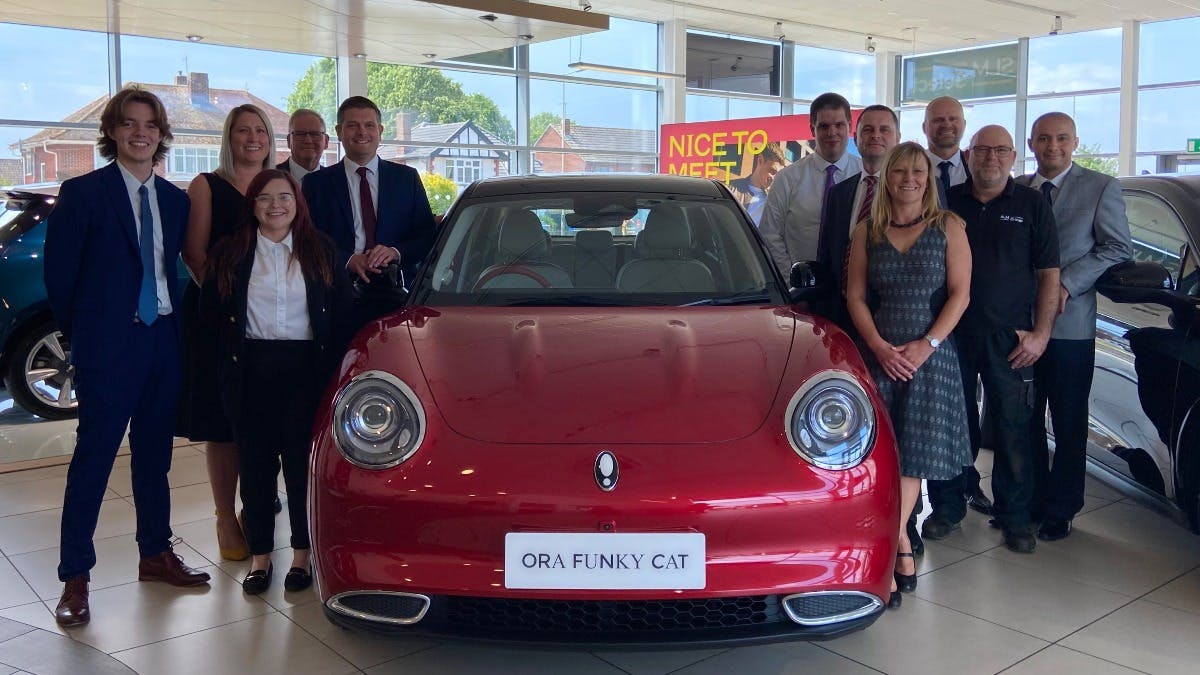 At SLM Group, we are delighted to welcome the GWM ORA franchise to our portfolio. On 14th June we opened the doors to our brand new GWM ORA showroom at Delft way, Norwich, marking the beginning of a new era in sustainable and innovative transportation solutions for the people of East Anglia. This latest addition is the ninth official sales and service centre in the UK for the brand.
Hi! Nice To Meet You East Anglia

 

GWM ORA is an all-electric automotive brand which launched in the UK, late 2022. Their parent company, Great Wall Motor (GWM), is one of the oldest and largest Chinese car manufacturers who have been leading SUV sales for 11 years and pickup sales for 23 years in China. Innovation is at the heart of this Chinese brand, so we are excited to be starting this new chapter with a manufacturer who are breaking boundaries with technology.

The first model to launch in the UK is the playful, yet purposeful, ORA Funky Cat First Edition. Beneath the retro-futuristic design, the model is packed with cutting-edge technology to create an effortless driving experience. With two demonstrators and 24-hour test drives available from our showroom, why not give it a spin?

The release of the ORA Funky Cat First Edition is just the beginning. As GWM ORA continues to expand its operations across the UK, we are excited to be involved in their future product launches. Additional model variants of ORA Funky Cat are set to launch later this year, followed by a premium saloon model that that is due for release in at the start of 2024.

"The GWM ORA brand has very ambitious plans in the UK and one of our key focus areas this year is ensuring we have the right infrastructure in place to create a solid foundation for future brand expansion. With new models on the horizon and a growing product portfolio, retailers like SLM will play a vital role in ensuring we can deliver the right level of customer service as the GWM ORA brand grows in the UK." - Toby Marshall, Managing Director, GWM ORA UK.

Why GWM ORA?

 

At SLM Group, we understand the importance of staying at the forefront of industry trends and offering our customers the best options available. The GWM ORA brand aligns perfectly with our vision of a sustainable future, thanks to their zero-emission mobility. With their first model, the ORA Funky Cat First Edition, GWM ORA has set a new standard for style, performance and eco-consciousness. By introducing this remarkable vehicle to Norwich, we aim to revolutionise the way people across East Anglia think about electric cars and contribute to the development of a greener region.

"We are delighted to introduce the GWM ORA brand to our retail site in Norwich. As a business we understand the importance of offering exciting new sustainable brands to our customers, and we're certain that GWM ORA's high specified ORA Funky Cat, with it's unique personality and premium fit and finish, is a winning formula. We look forward to working with GWM ORA as it grows its operations in the UK." - Jason Barlow, Group Director, SLM

One of the key factors that sets this manufacturer apart, is its commitment to customer satisfaction and convenience. The brand has established an extensive network of 29 customer service points throughout the UK since launching late last year - ensuring that sales and aftersales support are readily available to customers. This already comprehensive infrastructure highlights GWM ORA's dedication to delivering exceptional service at every stage of the customer journey. As an authorised sales and service centre, SLM Norwich is thrilled to join this network and offer our expertise in providing outstanding assistance to our future customers.

We'll Pop the Kettle On

 

SLM Group and GWM ORA share a common vision for a sustainable, yet fun, future, and our partnership represents a compelling opportunity for the people of East Anglia. By choosing GWM ORA, our customers will not only experience the thrill of driving cutting-edge electric vehicle technology, but also reduce carbon emissions.

We invite everyone to visit our brand new GWM ORA showroom at SLM Norwich, where the future of electric mobility awaits.